This weekend I was up in Maine, photographing a beautiful wedding for a beautiful couple I had never met before but to whom I pretty instantly felt attached.  I flew up on Friday morning and arrived back at midnight on Sunday/Monday.  In between I drove 8+ hours up and down the state and, because I was traveling without my baby, dumped 80+ ounces of my very finest *fine stuff* in trash cans and down sink drains.  That was hard to do.  
On Friday night I joined Prairie and Hanako for a dinner party in their home.  Prairie roasted a glazed ham and we ate tender little potatoes, a tangy salad, homemade bread, two pies, and washed it all down with home-brewed beer.  It was awesome.
Saturday--the wedding day--started out misty and grey but the clouds burned off by the ceremony and full sun slanted down on the cocktail hour.  I ate a lobster roll for lunch that day.  
Sunday was just as pretty as can be.  Blue skies with big clouds.  The air was warm but my heart could feel fall in Maine.  I went to the Market Basket on my way out of the midcoast and stocked up on coffee, cookies, and muffins for my day of travel.  So familiar.
I lived through three autumns in Maine and each one is unique in my memory and distinct as such:
The first fall was all about my hunting project for my documentary photography class.  Every Friday I drove north to the lodge.  I slept in bunk beds...wore long underwear...drove around with men in pickup trucks...helped carry a dead bear out of the woods in the dark.  This was the fall when I started drinking gas station coffee.
The second fall was all about my working life.  I was a teaching assistant and spent a lot of time standing at the white board, teaching people (but mostly myself) how to make exceptional silver prints.  I lived in a light-filled studio above Rockport Harbor...played hooky to travel to Uganda in October...made two very dear friends where I didn't have them before.  This was the fall when I started buying the New York Times every Sunday.
The third fall was all about the bubble.  I was on my way out of Maine, I knew, because my job had an ending date and so I lived in an idyllic bubble of Maine-bliss until it burst.  I soaked up everything I could in my sponge-heart...moved from my apartment and lived out of my red duffle bag...photographed a landscape that was equally golden and blue.  This was the fall that I started eating bagels from that place in Camden.
Each fall was different but something about the way I felt was similar every year.  I think it's just a fall thing in general.  The dichotomy of autumn is that it is both new and old.  Experiences begin, like a new school year, a new job, while the earth is winding down, days shortening, foliage expiring.  It makes my heart race with excitement and ache with sadness.  It is not that I dislike fall.  I like it very much.  It is beautiful and confusing--and aren't the things that mean the most?  
So on Sunday I was feeling all of this.  All of this fall in Maine as I raced down the highway with my cameras and cookies and didn't want to leave and yet couldn't wait to get home.  
But this is supposed to be a summer story.  
Here goes:
In July I drove to Maine with my mom and my baby to photograph a wedding and spend some time visiting friends afterwards.  My annual pilgramage.  We didn't really know what we were doing making a 14 hour road trip with a not-yet 6-month old baby.  We were winging it.  Turns out Flora is great company on an adventure.  
We left Charlottesville at dinner time and made it as far as Harrisburg, PA.  Flora spent her first night in a motel at a place off 81.  She traveled with her own crib and slept like a champ.  In the mornings, however, I would bring her into bed with me to nurse and maybe rest more.  
The big key to road-tripping with a baby was to make every stop a good stop.  This meant finding a shady spot, laying out our picnic blanket, and letting the baby wiggle all around for as long as possible.  In July she wasn't yet sitting up or crawling so it was pretty easy to let her do her thing in a contained area.  Whenever possible we would order food to go and eat during these longer breaks.  In the end we discovered that road-tripping in this fashion adds about 50% to your travel time.
The wedding took place in southern Maine, a part of the state I had really only driven through previously.  We stayed at the Beachmere Inn in Ogunquit.  
The main facility is right on the beach but we rented a garden level apartment in a house tucked up a quiet street.  It was perfect for us.
Plenty of room for a baby to roll around.
We arrived in Maine at the end of that super hot week across America.  Do you remember?  It was 104 in southern Maine that Friday.  The day of the wedding it cooled down to the 90s.  I was disappointed because Maine was supposed to be cool!  But at least the heat was familiar, coming from Virginia.
On Saturday morning before I started working I did have one important thing to do.  Flora had to dip her toes in the ocean for the first time.  
Because I had not spent time in this part of Maine I was actually shocked to discover such a wide swath of sand at the water's edge!  Crawling with people!  
Flora geared up and then had her second breakfast before we went down to the water.
These are two pictures I made with my iPhone while feeding the baby.  The views (out and down) from my chair:
Then Flora went to the beach.
The water was really cold.  I didn't make her sit in it because I wouldn't have wanted to sit in it either.  
On Sunday after the wedding (which was fabulous... and to follow) we packed up and headed north to see Prairie and Hanako. 
Our welcome sign on the front porch (complete with dusty clay footprints because Hanako had been working in the studio).
We unpacked the car like we were moving in for three months while P&H laid out appetizers, infused water, gin & tonics, and started making dinner.
It was delicious and thoughtfully presented.  They do meals so well, those two. 
After dinner Prairie prepped our bagels for the morning.  She knows how to do all kinds of cool things like make bagels.
Sweet Bailey.
We caught up on laundry during breakfast.  Flora wears these diapers and we pretty much love them enough to travel with them.
Before we took off Prairie escorted us to the local winery that also happens to make gin.  Mom and I may or may not have stashed a lot of bottles in the backseat under all the baby stuff.
We headed east into Camden and by the time we got there the sky was clouding up and the temperature had dropped to a perfect cold-summer-day-in-Maine degree.  I was so happy as I dressed my baby in moccasins.  
Note: that Jeep stroller was an impulse buy at the Walmart in Wells after we stupidly drove to Maine without one.  "We'll just wear her the whole time," I had said, since we had both a sling and an Ergo carrier already packed.  No.  Don't go on vacation without your stroller, people. 
Flora and Rose Kitty in the Jeep.
After shopping in Camden we drove down to Rockland for the night so we would be ready to catch the ferry to Vinalhaven the next day.  We stayed at the lovely Old Granite Inn, which is right across the street from the ferry terminal.  Mom and I ordered fish tacos and stuffed peppers to go from Cafe Miranda and shared the dishes in bed after Flora went to sleep.  In the morning she joined us in our bed.
Then she watched the Today Show while we packed up around her.  
After moving the car into the line for the ferry, we wandered around town for a while.  My friends Susan and Eleanor, two fellow photographers who I met during my first fall in Maine, both happened to be in the area that week so we met for late morning tea at Atlantic Baking Company in Rockland.  Flora was a total charmer the whole time.
Then it was time to get ready for our boat ride. 
The car was packed a little less efficiently by now, plus we had some of my cousin's stuff because Meg arrived and was joining us for a couple of nights at her family's home on Vinalhaven!  At this point Meg was probably the No. 4 woman in Flora's life because she did some babysitting in the late spring/early summer.  (You might be, like, No. 6 or No. 7 now, Meg.  Sorry to say).  
Flora enjoyed the ferry until she passed out for her afternoon nap.
We arrived in Vinalhaven, ran a few quick errands in town, and then crammed into the car to drive out to the house.  Kate and Haddie came out to greet us.  And then something funny happened.
Mom and Meg started unloading the car.  Flora was asleep in her carseat, wearing the tiny Maine hoodie I always imagined buying for my baby.  The sun was out.  The gardens around the house looked so beautiful.  Everything felt so peaceful.  I sat in the backseat, half in, half out of the car.  And I started to cry.  Mom and Kate both looked at me with motherly concern, though not totally surprised by my response.  
"Ohhhh... do you miss it?" Kate asked, "Or is it me?" she finished, satisfactorily easing the emotional heaviness of the moment.
"It's you, Kate," I said, wiping my eyes, smiling.  "I have missed you soooooo much."
And then we were all laughing and it was time to break out the cheese and crackers and pop open some Prosecco.  
The next morning was lazy until Meg and I decided to kayak around the top of the island to Perry Creek.  We spent a couple hours on the water, though for part of that time we were just rafted together in a little cove, talking about feelings and other womanly things.  It was a really nice way to spend the day.  But for some (stupid) reason I totally forgot I had arms and legs when I was putting on sunscreen before we left, so I got some ridiculous sunburn lines on my upper arms and thighs.  I don't know how I could forget about my appendages, but I did. 
In the evening we took an inter-island water taxi over to North Haven to have dinner at Nebo Lodge.  They actually send a boat over to pick you up.  Because Flora came too (naturally) we had a super early reservation.  Meg offered to wear her over to the restaurant.  It feels really good to have your favorite people love your baby like you do.
My beautiful mother, who has a long and complicated history with water travel and dinghy docks.
I had never been to Nebo Lodge before and it was so, so cool.  Perfect for a romantic meal with your lover.  Or baby child.
Everyone else ordered specialty cocktails but I got "the most nutritious beer you've got" because I had been too skinny and was trying to bulk up.  Seriously.  It was a most unexpected post-partum side effect.  I am happy to report that after several months of whole milk, creamy pastas, and a daily feeding schedule of breakfast, second breakfast, lunch, second lunch, dinner (with a drink), and a big bowl of ice cream before bed, mama is finally back up to her fighting weight.  
Then we perused the menu.  While the rest of us decided to start with the crispy kale chips and the pickled veggie plate, Flora chose to try the table.
We went outside for a while.  This is the kind of thing I get when I hand my camera to other people and ask them to take my picture:
After our delicious meal we headed back across the Thorofare to put the baby to bed.  This is when I shamelessly photographed Rufus, the taxi driver.  Because he was really cute and I was shameless in the way that a grandmother is shameless and tells a young man that he is cute because she is old and uninhibited and has nothing to lose.  
Rufus=cute young man
Meredith=old, uninhibited grandmother with a camera
Got it?
My beautiful aunt, who also thought our taxi driver was cute.
The next morning Flora woke in time to join the lobstermen but instead we stayed in bed and cuddled and took a "good morning!" picture to send to her daddy.
We had a ferry to catch in the early afternoon but Meg and I did sneak away for a quick swim at one of the quarries on the island.  
It took me several tries with the self-timer but finally I got into position in time.
Then Meg demonstrated how to jump in the water.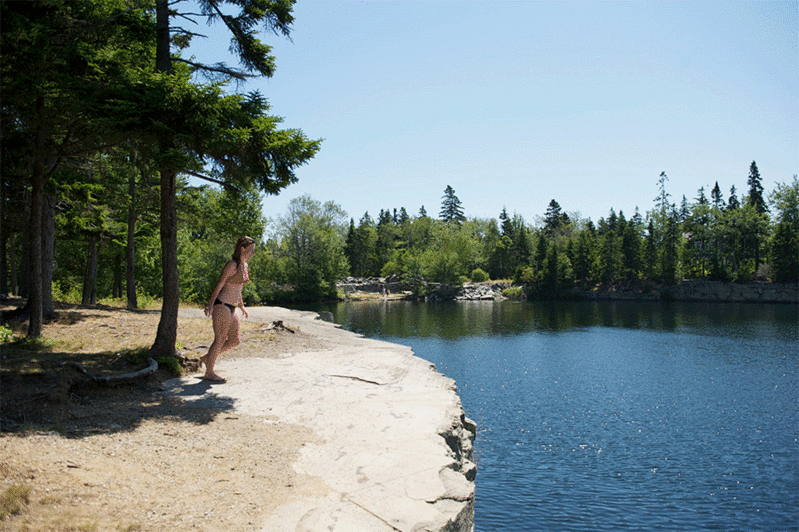 We raced home, showered, finished packing the car, and got in line for our boat.  Kate bought us some farewell lobster rolls for the ride back to Rockland.  
This is the view from the women's bathroom:
Back on the mainland we said goodbye to Meg, made a few stops, and then hit the road.  We made it to Wiscasset for dinner where we we enjoyed clam fritters and chowder for dinner.  Our final supper in Maine.
And then we started a very looooonnnnnnggggg haul back to Virginia.  Somehow it took us an extra night to get home.  Maybe it was because traveling with a baby (and a photographer) means you have a lot of stuff, which makes everything take longer.  This is what we would unload from the car every time we stayed overnight:
(Including but not limited to a travel crib, three camera bags, two pillow, two bags of baby stuff, and a cooler full of snacks and breastmilk).
We actually picnicked at this Wendy's in Masschusetts on both the way north and the way south.
See my sunburn?  It was way worse and weirder in real life.
We kept driving through New York and Pennsylvania....
And finally back to Virginia.  Flora played it cool but can't you see it in her eyes?  She's saying, "Are we there yet?  No, seriously.  Are we there yet, Mom?"  
The end.